Greenwood School District's One Act Play Receives Critics Choice Award
Wednesday, November 24th, 2021 -- 11:00 AM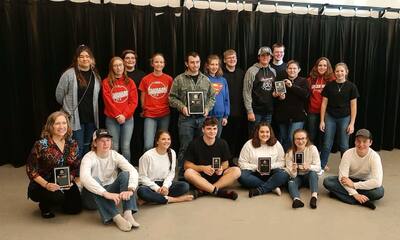 The Greenwood School District's One Act Play had an excellent performance at the state competition.
The cast and crew won the Critics Choice Award at State with their production of Bang, Bang, You're Dead. This is Greenwood's first time bringing that elite award home since 2013.
Several other awards were earned as well including an Ensemble Award, working as a cohesive group; Technical Award including sound, lights, props, costumes, etc.; Best Actor to Rogan Travis; Best Actress to Braelynn Johnson, and a Director Award to Jo Elmer.
---
Feel free to contact us with questions and/or comments.