Marshfield Clinic Health System YMCA-Neillsville Center Open
Tuesday, September 14th, 2021 -- 3:00 PM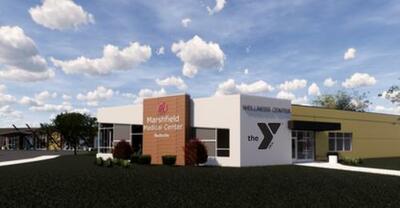 Neillsville and surrounding communities are about to get healthier in mind, body and spirit.
After months of strategic planning with a successful healthcare partnership, the Marshfield Area YMCA, Inc. is excited to announce the grand opening of its newest facility, the Marshfield Clinic Health System YMCA-Neillsville Center (N3708 River Avenue, Suite C, Neillsville, WI 54456).
The newly constructed state-of-the-art facility, located within the new Marshfield Medical Center-Neillsville, offers a 24-Hour Healthy Living Center with a number of fitness options, including Cardio & Strength Training Equipment, perfectly designed spaces for wellness, a Member Lounge, and qualified staff ready to help members meet their fitness needs.
John Nystrom, Marshfield Area YMCA CEO, says "We are very excited to be bringing health and wellness opportunities to Neillsville and the surrounding communities. The YMCA's mission is to help individuals get started and continue on their wellness journey. The addition of the Marshfield Clinic Health System YMCA–Neillsville Center will further allow us to accomplish our mission by offering these opportunities in a more rural setting."
The Y encourages members of the Neillsville community to tour the facility, speak with staff and sign up to become a Y member. Tours can be arranged by calling 715.743.2065. To learn more, please visit www.mfldymca.org/neillsville
---
Feel free to contact us with questions and/or comments.