Pet of the Week: Brindle
Wednesday, July 21st, 2021 -- 2:01 PM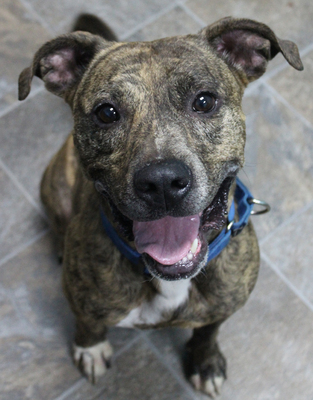 Brindle is this week's Pet of the Week from the Clark County Humane Society made possible by Badger Animal Clinic and Courteous Canine in Black River Falls.
Name: Brindle
Age: 3-Years-Old
Breed: Pit/Hound Mix
Brindle is the CCHS Pet of the Week! Yup, his name is Brindle, and he just happens to be brindle in color, too! Brindle is a 3 year old Pit/Hound mix who weighs 44#. Brindle really loves to be with people. He does pull on his leash a bit when going for a walk, so a little training would be helpful!
Brindle loves to toss his toys around his kennel and promises to bring lots of fun and entertainment to his new home. He just needs to find his new family to love forever. Please apply to adopt Brindle today!
Adoption applications can be submitted through our website:
www.cchs-petshelter.org/applying-to-adopt
.
CCHS is open again! We have reopened during our regular hours of 12-3 on Monday, Wednesday, Friday and Saturday. Adoptions are still being done by appointment, but we are again welcoming visitors and volunteers. Please stop in and see all of the wonderful cats and dogs we have available for adoption! Welcome back!!
The original CC Resale Store at 600 Hewett Street is now open from 9:30 - 11:30 a.m. on the first Friday of each month, so it will be open again on Friday, August 6th. Everything that you can fit in a large grocery bag will be just $2.00!! Our CC Resale Store at 815 Hewett Street is open on Saturdays from 9:30 - 11:30 a.m.
You can learn more about, and adopt, Brindle, and all the animals at the shelter, at their website,
www.cchs-petshelter.org
. You can also apply for adoption in person.
Check out our Facebook page for more pictures of Brindle.
---
Feel free to contact us with questions and/or comments.