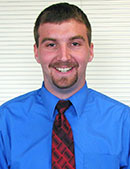 Riley Hebert
News Director/Disc Jockey - 107.5 FM
I was born in raised in Central Wisconsin, growing up in the Greenwood area.
I graduated from Greenwood High School in 2007. Then I attended the Illinois Center for Broadcasting in Lombard, IL, a suburb of Chicago, in June of 2008 and graduated the following spring.
After I finished school, I moved back to Wisconsin and held several leadership and management positions with different companies before coming to Central Wisconsin Broadcasting in February of 2012 as the News Director. In June of 2016, I started my midday air shift from 10am-1pm on 107.5 The Rock.
I am a bit of a geek, being a big fan of music, movies, video games, TV shows, books and more. My favorite band is Five Finger Death Punch followed by Disturbed and 10 Years. I can't really pick an absolute favorite movie because I like so many. My favorite video game series is The Legend of Zelda, books is Stephen King's Dark Tower Series and I like a lot of different TV shows as well.
---
Feel free to contact us with questions and/or comments.