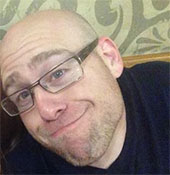 Twitch
Station: 107.5 FM
I grew up in the strip club capital of the world, Tampa Florida, and my first job was cooking bbq outside of one of these fine establishments. I got my first job in radio by relentlessly prank calling the evening DJ until he finally had enough, and asked me to produce his show. I just wouldn't shut up.Now I am married, have 2 little kids (Whose names escape me at the moment), and pass the time with craft beer and fine bourbon.
I like ROCK. Foos, RCHP, Avenged Sevenfold, FFDP, Ozzy, Metallica, Etc. I HATE people who say "Oh, I Listen to everything" when you ask them what they like... Really, you listen to everything? So who is your favorite Chinese Pan-flutist or Ranchero band? Hmmm, I guess you DON'T listen to everything, now do you?
I also like to cook, box, watch MMA, and sleep... However with a 1 and 3 year old, the sleep thing is pretty non-existent.
---
Feel free to contact us with questions and/or comments.