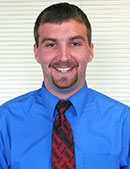 Riley Hebert
107.5 FM, 1370 AM, 92.7 FM

I was born in raised in Central Wisconsin, growing up in the Greenwood area.

I graduated from Greenwood High School in 2007. Then I attended the Illinois Center for Broadcasting in Lombard, IL, a suburb of Chicago, in June of 2008 and graduated the following spring.

After I finished school, I moved back to Wisconsin and held several leadership and management positions with different companies before coming to Central Wisconsin Broadcasting in February of 2012.

I am a bit of a geek, being a big fan of movies, video games, TV shows, books and more.

When I have time, I also like to read, spend time outside, and hang out with my family and friends.

I currently live in Greenwood with my pet tortoise, Homer.