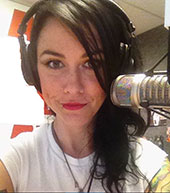 Lindsey Heaven
Station: 107.5 FM
I grew up in Tampa and New Orleans, as my whole family is from the latter and we spent any time off from school in New Orleans. I'm the middle of three girls, and daughter to parents who've been married for almost 45 years. I became an aunt to my precious nephew in March, and my immediate family is in Florida.
I am extremely passionate about animals and their well-being. I became vegetarian in 2007 and vegan in 2011. I've adopted and fostered (I currently have two rescued cats and another foster), and if I could I'd have every animal.
I love hiking, running, horseback riding, yoga, skiing--anything involving nature and being active. I'm learning guitar and I've begun painting. I absolutely LOVE music--of all kinds--but if I had to choose I'd pick (active) rock. I live for live shows. I love wordplay/puns, craft beer, and I have PLENTY of tattoos and piercings.
---
Feel free to contact us with questions and/or comments.