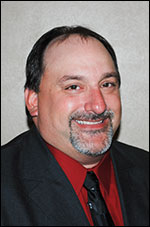 Name: Scott Haines

Age: 48

CAREER DIRECTION
Clark County Sheriff

PROFILE
An accomplished law enforcement officer that combines 20 years of Law Enforcement experience, specialized knowledge and training in public safety and criminal investigations.

CORE COMPETENCIES
Case Management
Investigation
Surveillance
Interdiction
Interrogation
Strategic Planning
Human Relations
Leadership
Project Coordination
Procedural Compliance
Organization
Communication
Time-Management
Research, Case Analysis
Report Writing
Observation and Crisis Intervention
PROFESSIONAL EXPERIENCE
Greenwood Police Department (1990 - 1993)
-- Patrol Officer and Basic Investigations

Colby/Abbotsford Police Department (1993 - 1999)
-- Patrol Officer, Criminal Investigations including drug cases

Clark County Sheriff's Department (1999 - April 2002)
-- Communications/Corrections Division

Clark County Sheriff's Department (2002 - Present)
-- Clark County Drug Investigator with a temporary assignment to West Central Drug Task Force - Eau Claire and a past certified member of the State Clandestine Laboratory disassembly team, level B Haz-Mat.

Investigations


Conduct special investigations pertaining to illegal drug distribution including informant management and delegation of team member responsibilities; gang activity and assist Detectives with major cases.
Directly work with a network of local and State law enforcement professionals
Sustain a low profile to observe and procure information critical to case development and apprehension of criminal offenders involved in minor to federal offenses.
Attend court hearings to provide official testimony, primarily in relation to State and Federal drug cases;
Prepare detailed incident reports and maintain sensitive, confidential case files.
SPECIAL TRAINING
Basic Drug Investigations - 1997
Interview Techniques, Street Crimes, Surveillance Techniques - 2002
Clandestine Laboratory Hazardous Materials Level B - 2002
Drug Interdiction
Practical Applications of Surveillance Equipment - 2006
Domestic Violence, Fire Arms, Disturbance Control, Close Quarter
Undercover training - 2007
Evidence Technician - 2003
Sarin gas, Anthrax & Nicotine make-shift lab identification - 2009
ACCOMPLISHMENTS
Provide training to certified law enforcement officers from our department and outside agencies in high risk emergency vehicle operation, vehicle contacts and use of force issues through scenario based training. I also provided emergency vehicle operation courses various fire and ambulance departments.
Held and maintained a position on the Correctional Emergency Response Team that concluded in 2007. This team responded to high risk situations in the jail after unsuccessful attempts by jailers. I also held and maintained a position on the Emergency Response Team that concluded in 2008. This team responded to situations where a higher degree of training, equipment and tactics were required.
In the course of my duties as a Drug Investigator for the Clark County Sheriff's Department, and as a member of the West Central Drug Task Force, I have received extensive training and experience in the investigation of controlled substance use and / or distribution. The West Central Drug Task Force is a combined effort of multiple city and county jurisdictions in west central Wisconsin. I have worked with numerous informants and agencies in the investigation of controlled substances use and / or distribution in Wisconsin. Some cases also led to investigations and arrests of subjects from out of state. This allowed for a very close working relationship with federal and state authorities, such as Drug Enforcement Administration (DEA), Division of Criminal Investigation (DCI) and Immigration and Customs Enforcement (ICE).
I have participated in the execution of over 200 controlled substances search warrants in which controlled substances and drug paraphernalia have been seized. I have participated in numerous multiple defendant conspiracy investigations. I have interviewed numerous individuals apprehended for criminal activity on the manner in which they use, buy and distribute controlled substances in Wisconsin. I am familiar with the street terms of various controlled substances and methods that are used by drug dealers to package and prepare controlled substances for sale in Wisconsin.
I have been directly involved in the investigation and arrest of individuals associated with controlled substances that are in violation of Chapter §961 of the Wisconsin Statutes.
PERSONAL SUMMARY
My goal as a Clark County Law Enforcement Officer, since hired, has been to acquire as much knowledge and training in order to advance my career with the goal of achieving a management position.

In order to achieve this goal, I have outlined my professional training and experience. It is varied and thorough and can be directly applied to the position of Sheriff. If I gain the position of Sheriff, I will reflect on the training, experience and current administrators to meet the challenges that are involved in the position. I would accomplish this by providing leadership and direction for the department while keeping mindful the safety of the deputies under my command and the inmates in Clark County custody, as well as budgetary constraints.

Communications is vital in the position of Sheriff. In my current position as Drug Investigator, I not only have to communicate with local, state and federal law enforcement agencies but also with informants, victims and suspects. The communications with all of these entities vary dependent on the situation. This requires flexibility and the ability to read and understand personalities.

I am currently married to Cathy A. Haines, with five children and together we own and manage two businesses, Klisch & Associates and Strike Time Lanes.


I would describe the role of a Sheriff as the manager and leader of the department. The Sheriff is a crisis-oriented emergency manager who plays multiple roles (one to the citizens and one to staff) and maintains law and order. The Sheriff needs to be an effective leader with an understanding of when to command, when to delegate and an encourager of creativity and initiative. I believe you lead people by example and manage resources through the process of planning, organizing and controlling.

The Sheriff must keep pace with demands and expectations applying current up-to-date approaches to problems facing our population which includes the courthouse of Clark County as well as handling the duties of running the Clark County Jail. The Sheriff is responsible for overseeing transporting of prisoners as well as enforcing traffic laws on State and County roadways within the County.


My priorities as Sheriff would be to reduce the criminal victimization of citizens and businesses. This would be done by focusing on sensitive crimes, illegal drugs and property crimes. After holding the Drug Investigator position for the past eight years, I have seen many lives affected by these areas. I intend on developing a highly-skilled staff through advanced training to combat these types of crimes. With changing technology and sophistication of crime it is important to stay top-notch to protect the citizens of Clark County.


Traffic Safety: Increase the safety of citizens on the roadways of Clark County. We currently receive grants that aid our department in traffic enforcement. I plan on continuing supporting this type of effort as it ultimately protects our citizens who travel the highways in Clark County.


Emergency Medical Dispatch (EMD): With the large land size of our County and its rural population, our Dispatchers should be trained in Emergency Medical Dispatch. This will give 9-1-1 callers basic information on emergencies prior to the arrival of Emergency Medical Services.


My thoughts on Immigration in Clark County: As the Drug Investigator for our Department, I work and have worked with the U.S. Immigration and Customs Enforcement (ICE) on many cases.

Our Department currently keeps ICE apprized of Illegal Immigrates who violates State Laws pertaining to chronic operating while intoxicated cases, sexual offense cases, domestic abuse cases and any felony cases. ICE is the front runner on immigration. Our Department will continue to work and assist their department whenever called upon by them.

Is immigration a problem in Clark County? Immigration is a problem nation wide and Clark County is no exception. Our job is to deal with the safety of our citizens and enforce laws no matter if they are citizens or not. With limited staff we are unable to focus solely on this. As we have situations where we are dealing with immigration we currently have direct contact with federal authorities on these issues. What we need to do is bridge the gap and educate the different cultures in our county so we are all on the same page.


Gun crimes: As a Law Enforcement Officer, our job is to get the facts and the details to support those facts, submit the charges to the District Attorney for his/her review. The District Attorney then determines if a case is chargeable or not, not me.


Budget: I am in favor of cutting the Sheriffs Department budget if there was a way to do it. The problem with the Sheriffs Department is that it is a necessary service with little or no income to support itself and then throw in the recent loss of out of county inmates being a big issue.

I have not seen the budget so it is very easy for me to sit here and say "Yes, we can cut the budget." when really I don't know. Is the budget something that I'm going to be involved in? Yes, what leader would not be involved with that area of the Department?

I believe we have to identify and evaluate each Department program, the expenses involved and find opportunities to improve our service quality to the taxpayer without comprising the effectiveness and efficiency of the Department.

There are numerous statutes that mandate the Sheriff's Department to perform certain duties without any type of financial assistance. This causes the Sheriff's Department to be one of the most costly departments in Clark County. The Sheriff's Department provides 24/7/365 service to the citizens. With limited resources we must meet or exceed the county's expectations for service delivery, professionalism and organizational performance.


Patrol/communications/corrections vs. administration balance: In my current experience with administration, they are all active working administrators. Each of them have gone out into the public and worked active criminal cases with different members of the Department. Any future changes in administration would be reviewed at the time of an opening.


Drunk Driving: The Wisconsin Tavern League recently implemented a "Safe Ride Program" which taverns can participate in. The program offers rides to people that feel they should not drive, free of charge. Developing a better working relationship with the Clark County tavern League would allow a group effort to use the media and other resources to educate the public on issues such as this.


Would you continue the Drug Investigator position? Absolutely, without a doubt. With firsthand experience the drug issue in Clark County is a growing problem. A majority of the property crimes in Clark County are a direct result of drugs. In the past eight years we have had homicides, the ultimate crime against a person, that has had a drug tie to it. The cost of these homicide investigations are enormous for the tax payers. If these events can be reduced due to the efforts of an investigator with this expertise, this will have a positive impact in many areas to many people.

The position of drug investigator utilizes many law enforcement officers in the Sheriff's Department and many other agencies. This position does require extensive training but also uses the assistance of many other people, both officers and informants. This position has been very successful in the past eight years with over 60 felony cases, many vehicles seized and tens of thousands of dollars in seizure. Drug cases vary in length from weeks to sometimes years, involving multiple jurisdictions and the networking of many agencies. Recently Clark County went on-line with a statewide computer program that shares information from numerous law enforcement agencies in the State. This program integrates all types of investigative information such as addresses, vehicles, subjects, telephones, financial information, and physical evidence in a security conscious, friendly web based environment. This not only automates the electronic organization of the entire investigation, but also enables users to identify links within a case or between multiple cases that would not otherwise have been realized.

BACK TO ELECTION PAGE