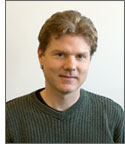 Paul Dickinson

Station: 107.5 FM
Schedule: Weekdays (10am - 3pm)

Paul Dickinson has been the mid-morning jock at WCCN The Rock since the mid 90's. Originally from the Twin Cities area, Paul arrived in Neillsville, Wi fresh out of broadcasting school, in a broken-down rusty Mazda hatchback with a hole in the floor panel. Paul has also been a working musician for most of his life, playing both guitar and keyboards. Paul is currently the lead guitar player in The Bear Creek Band, while juggling being Music Director at WCCN 1075 FM The Rock.

Paul has been married to his wife Allie since 1998. They have 2 kids - a boy Keegan, and a girl Macey.